For those who are taking up their PhDs know full well that when it comes to their thesis, they will have to give it their all. Most professors of PhD programs are expecting their students to deliver research papers that are befitting to the level. This means that you will need to conduct thorough research on your research paper, analyze the data that you have gathered, and write a comprehensive dissertation that spans up to 200 pages to submit to your professor. This requires a lot of work on your part especially during the research part and if you manage to finish your thesis research paper, don't just submit it as is. You should take the time to look for dissertation proposal writing service or any other PhD editing services that can go over your work to see if there are any errors that you may have missed or at least improve your paper for you. For this, you will need our services because this is what we offer today.

What Can Our PhD Dissertation Editing Services Do for Your Paper?
Editing is far more than simply checking through your paper to see if there are any typos that you may have missed. Your paper must be in perfect academic English from start to finish. The following are just some of the things that will be covered when our editing services for PhD thesis papers review your work:
Are there any ambiguities in your writing: the meaning of your writing must be clear and there should be no other ways of interpreting what you have written.
Are your word choices appropriate: editors will review every word that you have selected and consider if there are better choices that should have been selected for your writing.
Is your writing readable: is its structure correct and does it flow well? An editor will enhance the readability of your paper so that it is easy to read and understand.
Are there any errors: the editor will check everything from the references that you have used to the facts that you state to ensure that you have done things correctly.
Is the formatting of your paper correct: from the overall structure of your paper through to how you have organized citations and references.
Why Choose Our PhD Editing Services
PhD editing isn't an easy thing to do on your own as you may be a bit biased to your own work. Having a fresh set of eyes to look at your work can help you spot possible errors as well as poorly written paragraphs and sentences that are not doing your research paper any good. Fortunately, our PhD editing service is all about delivering professionally done PhD editing regardless of whether you just want someone to review your research proposal or if you want an editor to go through your thesis paper. Our editors are fully qualified to do the job because they have PhD degrees and knowledge of various editing tools and rules that they usually employ when going over our clients' work. What our editors will do is to go over your paper several times to ensure that all errors have been noted and then provide you with feedback on the best way to improve your thesis. We want to provide you with a one-stop-shop for all your PhD thesis writing needs from doing research all the way to editing your current paper. You only need to send us your order and we'll see what we can do.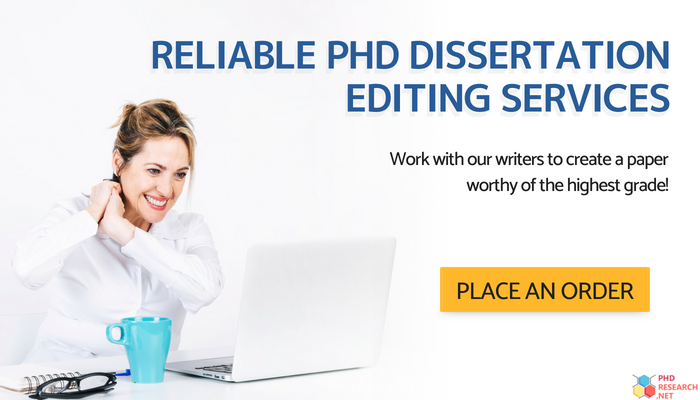 Why Work with Our Professional PhD Editing Services?
There are many PhD dissertation editing services online but few are going to be able to offer you the quality of support that we are able to provide. With our professional PhD editing services you will get to benefit from:
Working directly with PhD qualified certified editors that fully understand just what is expected from your paper.
Highly affordable services: our pricing is stated clearly and you will find it hard to beat what we offer at the prices that we charge.
Original work and error free: all of our edited work is proofread and supplied to you.
Total confidentiality: we will never share anything from your paper or your personal details with any other party.
Guaranteed satisfaction: if for any reason you are dissatisfied with any aspect of our service and we are unable to resolve the problem then your money will be refunded.
Cheap Editing Company
When it comes to hiring PhD editing services and PhD writing services you need to keep in mind to hire only the best editing company to ensure that you will get the best value for your money. The good news is that you have stumbled upon one of the leading editing company today where all papers that go through us are edited by our experts. Yours too can be reviewed and commented on by our writers so feel free to send your papers to us.
Work with our PhD editing services here today to ensure that you will be able to submit a paper that you will be proud of.