Psychology PhD Research Proposal Topics | How to Discover the Best One
The very common problem with many students when it comes to writing their PhD papers is selecting the right topic. Topic selection can be tricky but there are quick tips that will help you decide which topic is perfect for you. Before anything else, you should brainstorm ideas; this will allow you to create topics from various areas of psychology. Next is to pick the best PhD research topics in psychology depending on their practicality, efficiency, relevance, and quality. Avoid topics that might be too broad, have minimal resources or are traditional. For some particular ideas, you can order some psychology PhD thesis writing services.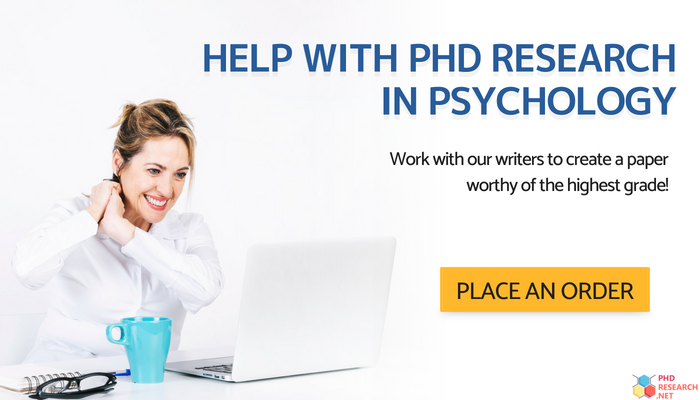 Selecting Psychology PhD Research Proposal Topics
Generally, it is left to students to select the psychology thesis topics they want to research. There are a large number of subjects in psychology and a vast number of topics to choose from.
However, there are some things it will benefit you to know before making your final PhD research topics selection:
Do you have a genuine interest in the topic? You may spend a year or more working on your dissertation. That is a lot of time to work on something you aren't truly interested in. choose a topic that you have some passion for.
Do any faculty members have an interest in the topic area? Generally, it is a good idea to select a psychology topic that at least 1 or more faculty members are interested in.
Can you justify conducting research on the topic? You should be able to identify a gap in knowledge that your research will fill.
Are you familiar with the topic? If you aren't fairly knowledgeable in the topic area you will spend a great deal of time playing "catch up." It is better to choose a topic in an area you are familiar with.
What is the scope of the topic? The topic you select should be narrow enough so that you can cover it well, but not so narrow that there is a lack of literature on the subject
Find our what the main rules of choosing research topics in engineering are!
Free Samples of Custom PhD Research Topics in Educational Psychology
Here are 10 of the best examples of PhD research topics in psychology that might be helpful for those who are having difficulties with deciding their topic.
Look through free topics ideas here:
A look at the history of psychology before the 21st century.
Analytic psychology techniques: a study of experimental designs.
Evolution and psychology: the impact of the environmental changes on the human mental state over the course of time.
Personality research: a case study on motivation and intelligence.
Clinical psychology: an overview of psychoactive substance use disorder
Developmental psychology: an analysis of death, dying and bereavement.
A critical study of basic learning processes and the effectiveness of classical conditioning.
Is social learning more effective than intensive isolation learning?
Individual differences: a study on how twins develop their own personalities using psychometrics.
A critical assessment of meditation and its individual's response towards relaxation.
You can also take a look at the list of good PhD research topics in marketing.

Download more ideas for PhD research topics in psychology right away!
Importance of the PhD Psychology Dissertation
Psychology is a social science related to the study of behavior and the mind. It attempts to understand individuals and groups by establishing general principles and researching specific cases. Psychology examines concepts such as perception, cognition, attention, emotion, intelligence, motivation and personality in an attempt to understand the role of mental functions in individual and social behavior. It also explores the physiological and biological processes that underlie mental functions and behaviors. To earn a PhD in psychology you will have to complete a dissertation which involves conducting original research in the field. Your research and the resulting dissertation is critical to obtaining your PhD degree.
Tips and Suggestions from Psychology PhD Thesis Writing Service
A dissertation is a major undertaking and an essential part of earning your psychology PhD.
Here are a few tips to keep in mind while working on your dissertation:
Have a clearly stated research question: you won't be able to write a good dissertation if you don't have a clearly defined question
Have a plan: work from an outline. If you dive in without a plan it is easy to get sidetracked.
Set short-term goals: set yourself some realistic daily and weekly goals to aim for. Goals that can be achieved relatively easily will keep you in a positive state of mind. A goal of writing a few hundred words a day is much less daunting than thinking about completing an 80 thousand word paper.
Document everything: keep track of every source you consult and make sure you have the citation information required. This will save you a lot of hassles later on.
Writing your dissertation will not be easy and it is common for students to encounter problems at some point in the process. We provide psychology dissertation writing help for every aspect of the process. Our professional writers have PhD degrees in psychology and are well versed in all dissertation requirements.

Get Hassle Free Help Online for Winning PhD Research Topics in Psychology
Make sure to use your PhD paper as an opportunity to impress your readers. The impact of your paper relies heavily on the quality of your topic so take the time to create original PhD topics. If you are one of the many who are still having difficulties with their topics, be sure to seek hassle-free help online from professional writers. The best thing with academic writing services is that they can provide you with bespoke PhD research topics in educational psychology depending on your area of expertise; this way, your paper will be within your scope of interest.
For well-qualified help selecting PhD topics in psychology or any other part of the dissertation writing process, contact us and benefit from our expertise!