Sociology is the study of social behavior or society, including its origins, development, organization, networks, and institutions. It employs various methods of empirical investigation and critical analysis in order to develop a body of knowledge about social order, disorder, and change. Some sociology research may be applied directly to social policy and welfare, while other research may focus primarily on the theoretical understanding of social processes. Earning a sociology PhD indicates that you have the knowledge, skills, and ability to conduct research in the field at the doctorate level. Thus in order to be awarded a doctorate in sociology one of the major requirements is to write a dissertation based on original research you have conducted and our sociology PhD thesis writing service may help you with original research. Whether you need help with a physics research topic, sociology or economics, we are here to cover your back!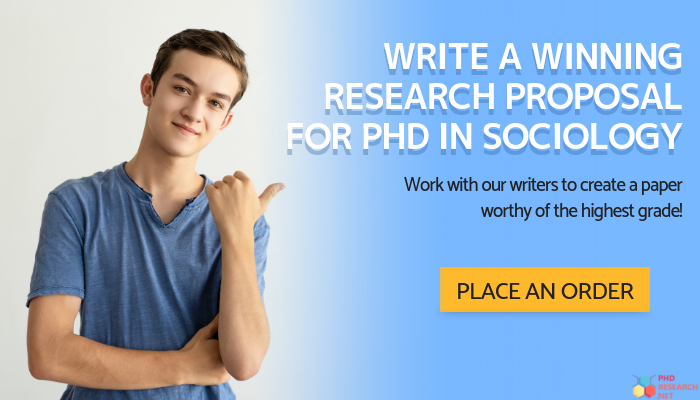 Choosing Sociology PhD Research Proposal Topics
A major part of completing a PhD degree in sociology is the dissertation which is written based on original research you have conducted. Although research should contribute something new to the field this does not preclude you from researching the same topic as somebody else. You may feel the topic should be approached differently or build on the work somebody else has done.
Here are actual topics in the field of sociology that you may want to consider:
Modern slavery and trafficking in Human beings
Harassment and bullying on Social Media
Mean girls: a study of competition among young women
The gender bias: how men and women are treated differently in law, media, and Social interactions
The relationship between poverty and education
Class and contentment: does money buy happiness?

Does increased meat consumption affect the environment?

Is a traditional family dinner still common?

What are the effects of fast food in the society?

International marriage changes

The popularity of social media per age group

Professional success with foreign education

National consciousness of children – how is it influenced by families?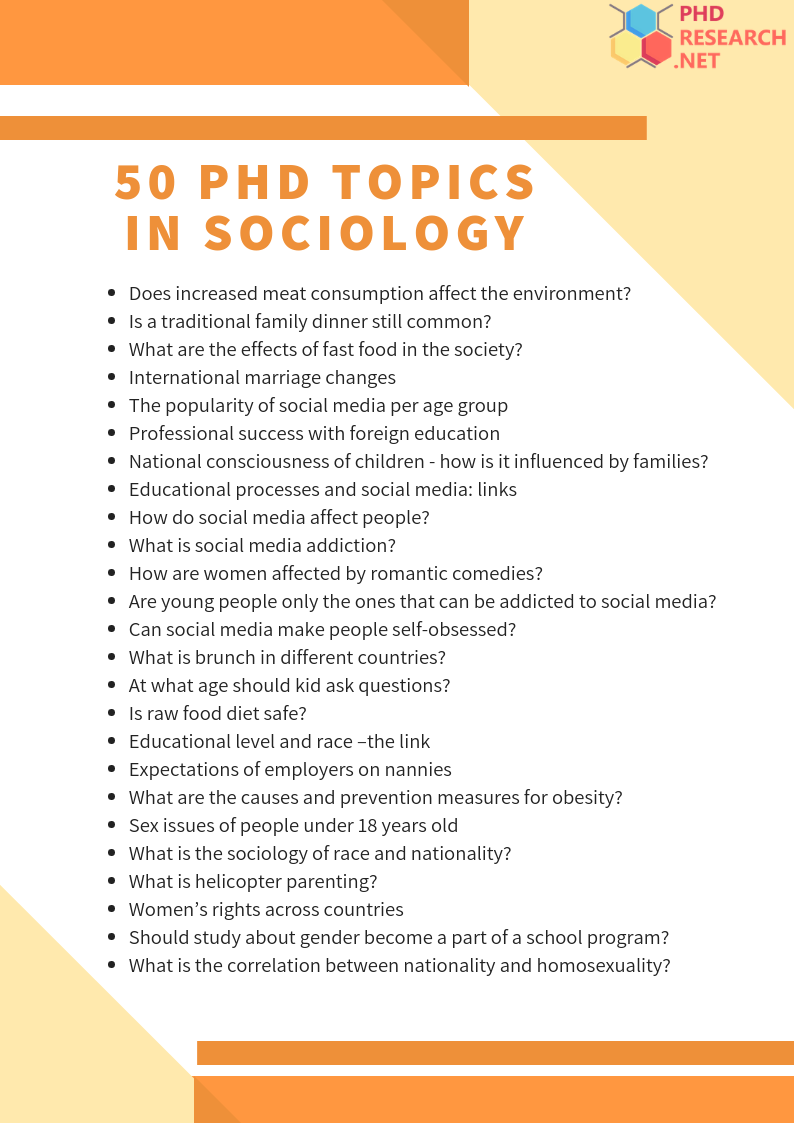 Download list of 50 topics for PhD in sociology right away!

Tips and Suggestions On Writing Paper for PhD in Sociology
It is probably safe to say that your sociology dissertation will be the most difficult paper you have ever written. Every sociology PhD program will have its own dissertation requirements you will be expected to meet.
Here are a few tips and suggestions for writing your dissertation regardless of the program you are in:
Choose a topic you have a passion for: it's a terrible feeling getting halfway through your dissertation only to realize you are bored stiff with the topic. Try and select a topic that will continue to hold your interest
Don't procrastinate: get started on your dissertation as soon as possible. You can be pretty sure that you will encounter problems along the way and you will need time to resolve any difficulties. You also need to leave plenty of time for revising, proofreading and editing
Don't try and make it perfect: some students feel that each page has to be perfect before they can continue to the next. Don't worry if your first draft isn't perfect. They never are. Write first then you can go back and polish it at a later date
When in doubt cite it: to avoid any plagiarism issues you need to make sure all sources you have used are cited properly. Write down all citation information so that you don't have to go back and dig for it later. If you are unsure whether or not some information requires a citation include one. Better to cite unnecessarily than to be charged with plagiarism
Proofread: most students have been told this since high school but even at the PhD level some fail to properly proofread their papers. Spelling mistakes and grammatical errors are unacceptable at this level.

Achieve Doctorate Degree in Sociology with PhD Thesis Writing Service
Most students will run into difficulties when writing their dissertation. Don't be alarmed as this is normal. When you encounter problems writing your paper our company can help. We provide a sociology dissertation writing service that can assist you with every step of the process. Our professional writers have sociology PhD degrees and are well acquainted with what makes a good dissertation. You will get the following benefits by using our services:
Professional academic writers who understand academic writing rules
Perfectly written and formatted work according to your requirements
Diligent customer service that's there for you 24/7
Rates that any student can afford the help they need
Full satisfaction guarantees
Use these best PhD topics in sociology and contact us for more professional and affordable assistance!