How to Choose Engineering PhD Research Proposal Topics

November 9, 2016
|
5 min read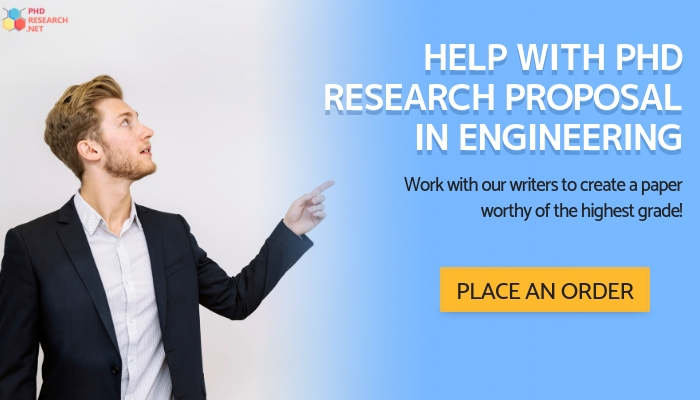 Completing a PhD in Engineering
Engineering is a broad discipline that covers a wide range of specialized fields, each which applies scientific knowledge to solve real-life problems. Some of the branches of engineering include chemical, civil, electrical and mechanical among many others. A doctorate in engineering regardless of the particular field is earned through research and advanced study.
An essential part of any PhD engineering program is the dissertation which is written based on original research in the particular field you are in. PhD candidates select their own research topic and should choose it carefully considering how important the dissertation is to earning their degree, or they may ask engineering PhD thesis writing service to help them.
Looking for interesting engineering paper ideas?
List of the Latest Research Topics in Engineering
Modern day organizations and IT implementation – the best practices
Natural olfactory biosensors computational simulation
Supply chain management and sustainable practices
Nanotechnology's role in glucose biosensor development
Supply chain management: The impact of developing a learning organization to it
How to design and develop a carbon index system
A case study on the carbon index of an energy-intensive firm
What process mapping methods can be used in identifying bottlenecks for a supply chain industry?
Controlling and sensing LED light intensities
How to improve productivity in organizations through information technology
The role of information technology for a sustained competitive advantage
How to measure household consumption via the development of a compact device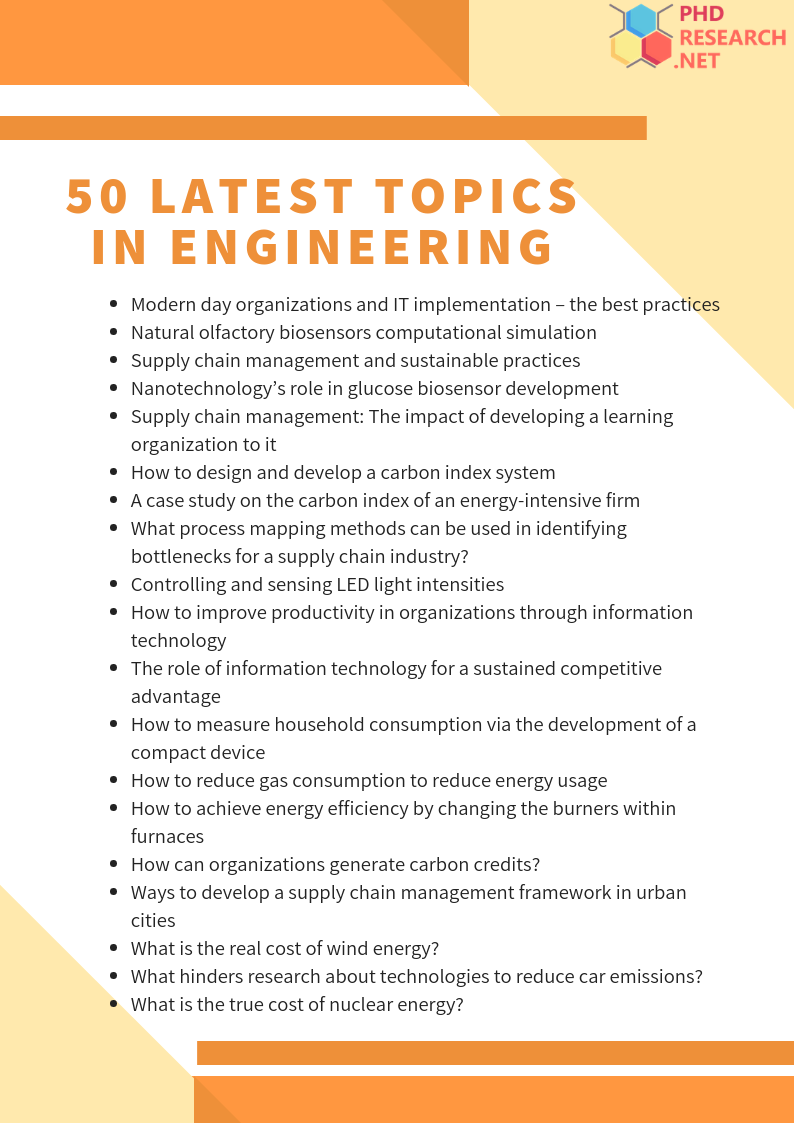 Download list of PhD 50 topics in engineering right away!

Tips and Suggestions for Selecting Engineering PhD Research Research Topics
Research topic selection is difficult for many students. It must be something that contributes to the field and allows you to demonstrate the skills and knowledge you have acquired.
Here are some tips to help you choose your engineering research topic:
Consider several topics: you are allowed some time to make your topic selection. Initially, you may want to consider several different ideas before you commit to one. Do a little research on each idea and see if one stands out from the rest.
Choose a topic you are familiar with: you don't want to have to start completely from scratch as that will eat up a great deal of time. Consider topics in an area you are familiar with and preferable one that makes use of your strongest skills.
Select a topic you have some enthusiasm for: it helps a great deal if you select an engineering research topic you have a genuine interest in. You will be spending several years with the topic and if you aren't truly interested in it you may get bored and not put in the effort required.
Make sure the topic is narrow enough: many students initially choose topics that are too broad and which can't be properly covered in the time available
Consider faculty interests: it is preferable that at least one member of the faculty has an interest in the topic you select.

Writing a Dissertation with Engineering PhD Thesis Writing Service
The chances are pretty good the engineering PhD thesis will be the most difficult paper you have ever written.
The following are a few suggestions that may be useful when writing your dissertation:
Read some other PhD engineering dissertations: reviewing dissertations in the same field as your own will provide you with some idea of how to structure your paper and what style of writing you should use
Follow program requirements: make sure you follow any specific writing requirements your engineering program has. A large number of programs have certain requirements you are expected to meet and to ignore them would be a big mistake
Write your introduction last: the engineering dissertation introduction is an overview of the entire paper, and it will be easier and faster to write it once you have completed the rest of your paper
Write succinctly: A clear concise writing style is preferable for your dissertation. Avoid using unnecessary words that don't contribute to your paper.
Manage your time well: begin working on your dissertation as early as possible. Work on your paper on a daily basis. Also, keep in mind you will need time for revising, proofreading and editing your paper

It isn't unusual for students to encounter problems when working on their dissertations. Our company offers engineering dissertation assistance for every step of the process. Our professional writers have engineering PhD degrees themselves and are well versed in the academic writing process. We guarantee all work we provide to completely satisfy all of your requirements. Even if you need help not with engendering but with dissertation topics in management we will find an expert who has expertise in your subject area.
If you encounter difficulties with selecting research topics in engineering or any other aspect of the dissertation process, contact us for the first rate assistance provided by the experts in the field!