List of Management PhD Research Proposal Topics

June 28, 2016
|
5 min read
[ad-6792216]
How to Find Interesting Management PhD Research Proposal Topics
For PhD programs, a major portion of your grade relies on the quality of your completed research paper. Before you start, make sure that you understand the importance of good topics and how this can help you ensure the excellence of your PhD research proposal. You will devote a great deal of time to writing your paper, so your PhD research topics in project management should be significant, interesting and practical. Choose PhD research topics in project management that you are passionate about as this will make the progress faster and less stressful and don't forget about PhD dissertation writing services and PhD thesis writing service.
Top 10 Lists of Great Strategic Management PhD Research Proposal Topics
We have a wide selection of PhD research topics in project management.
Browse through our list of topics to help you finalize your own topic:
Strategic management: how entrepreneurs cope with experiencing business failure.
An analysis of contemporary management issues: how organizations foster their social responsibility for better consumer relationship.
Global enterprise: the best management practices utilized by Islamic companies.
A case study on local industries and the management techniques they use to overcome multinational barriers.
Sustainability: the impact on adopting sustainable management strategy in complying with environmental regulations.
A study on the ethical management issues of outsourcing factories to India.
Management and networking: the various holistic approaches used by organized to create effective business results.
How corporations use network markets as a competitive advantage.
The innovation of global strategies to accommodate culture-sensitive management approaches.
Human resources management: how companies use internet-based employees for flexible labor.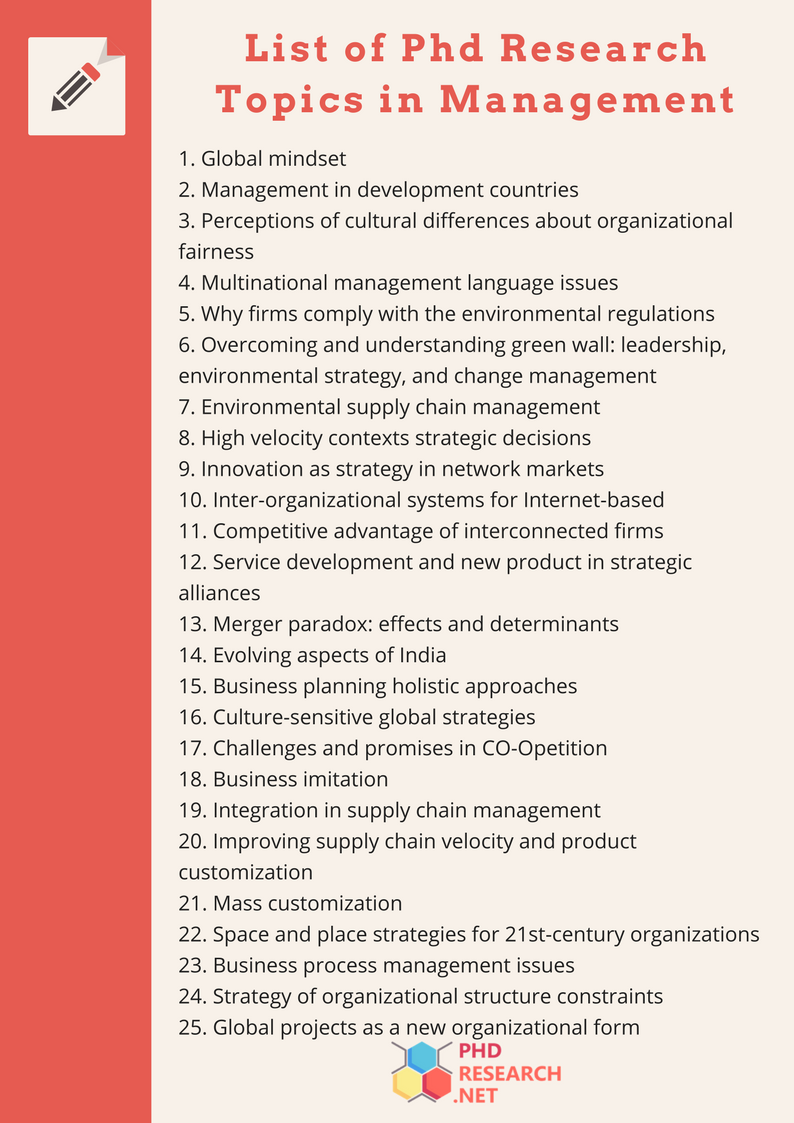 Download more PhD research topics in management here!
How Can You Make Your List of Management PhD Topics?
Selecting PhD research topics in management is never an easy task no matter how you approach it. Many students will struggle to select the right idea for their research and this can lead to many issues as their work progresses, if they are allowed to progress. Finding the ideas around which you can base your research does not however have to be too hard if you follow our guidance:
Consider continuing past research: if you have already started work in one area you can often follow through on those studies and develop them further.
Brainstorm with other students: you will be able to build on the ideas that you each raise finding many more options than you would if you just considered it on your own.
Review literature and research in areas that interest you: many of these papers will suggest additional areas for research as well as highlighting any weaknesses in what has already been discovered.
Look at a list of research topics in management: even if they are not topics that initially interest you they may suggest possible projects that you would not have otherwise considered.

What Should Your Management PhD Research Proposal Topics Cover?
Of course your potential list of PhD topics in management will have to satisfy those that will review your proposal before you will be allowed to do your research. They will want to ensure that your topic is:
Unique: selecting an issue that has already been solved to everyone's satisfaction is not going to show your skills in the field of management.
Important: the project must add value to what is known of management in your area or it is of no point.
Feasible: you must be able to complete the project with the resources and time that you have available to you with a high chance of success.
How Should You Write Your Management PhD Research Proposal Paper?
The following tips will help you to ensure that you write an effective and well formatted paper that will be accepted:
Ensure that you fully understand all requirements before you start: carefully review exactly what is expected from your paper in regards to format, writing style, and word count.
Make a clear plan: just as with your actual research, you will need to carefully plan your writing if you want it to go smoothly. Define clear milestones as to when you will complete each section of your paper.
Make an outline of the PhD paper: jotting down simple notes of everything that needs to be covered in each of the parts of your paper will guide your writing and help you to avoid many issues.
Have a routine: set yourself a daily target for your writing that you can achieve and sit down at the same time each day so that you will make continuous progress towards completing your paper.
Proofread and carefully review your writing: allow plenty of time to improve the quality of your writing and to ensure that all mistakes are identified and removed from your writing.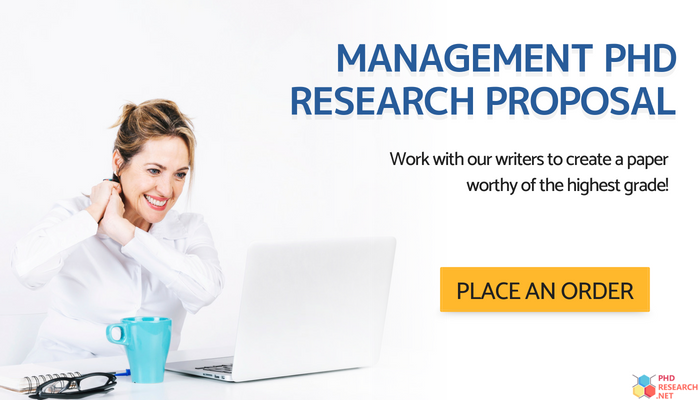 Our PhD Thesis Writing Services Are Guaranteed
If you need more support than to simply review our list of research topics in management our professional services can provide you with all of the help that you need. We work directly with you and aim to ensure that you will be fully satisfied with the help that we offer you, in fact we guarantee it. Our services come with a full satisfaction money back guarantee as well as:
Guaranteed delivery inside of your stated deadline
Guaranteed confidential support through our affordable support
Guaranteed error free and unique work
Make the PhD research topics in management that you select for your paper right for you and get all of the support that you need by contacting our professional and reliable experts.