Expert Tips for Choosing Best Law PhD Research Proposal Topics

January 20, 2017
|
6 min read
[ad-3178348]
Typically, parsing through hundreds of potential law PhD research proposal topics in law leaves you in quite a mess. It's not easy to separate the wheat from the chaff to find the ideal topic that suits you perfectly. When you're struggling to identify the best possible topic that fits your specific academic qualities, you need an expert source of advice for PhD research proposal help.
Finding the Best Law PhD Research Proposal Topics
When it comes to the various law PhD topics you might want to pursue, the most important aspect to consider is whether the subject matter is of any interest to you or indeed the legal profession at large. In order to succeed you have to enjoy your studies, and this requires that you find your chosen topic the most interesting of all.
[ad-9661465]
There are several places you can look if you're having trouble finding your preferred topic. Firstly, you can check to see what previous students have researched at various academic institutes. This will give you a good idea of what you would be able to study at these particular places while getting all the pastoral and academic support you'll need.
Secondly, you should aim to get in touch with leading names in the field you're most interested in. While many such people won't reply, perhaps due to their existing workload, others may well respond with absolute gems of advice and a few words of vital support.
Last but not least, you can check out online websites for private support and even coaching to make sure that you get all the help you need outside of your chosen law school. Legal experts often take it upon themselves to educate the next generation of lawyers without taking on the burden of a full academic role. It is such people that you can rely on when you search for online support.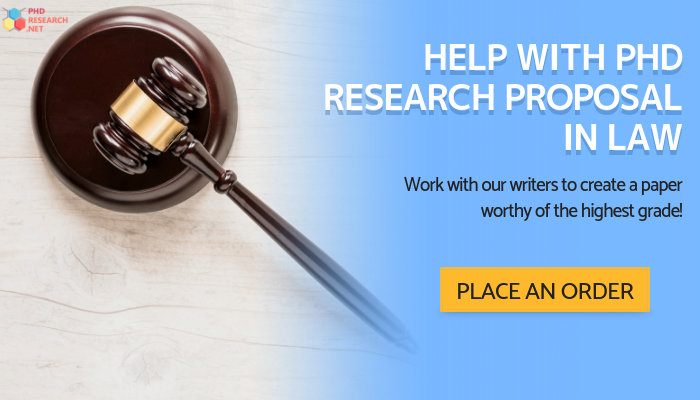 A Few Topics for PhD in Law
If you're still unsure as to exactly what you'd like to pursue, we have compiled a short and sweet list of the top 12 PhD research topics in law. You'll surely find one or two that'll whet your appetite.
Even if this isn't the case, you'll at least have stimulated your imagination enough to think up a few interesting ideas of your own. Either way, you can always ask an academic expert for top advice.
Look through the following topics:
Consider the legal problems associated with assisted suicide
Explore the discretionary power of the United Nations Security Council
Analyze the current issues surrounding anti-monopoly laws
Consider the role of corruption in legislation
Examine the role of law in mental health and treatment of psychiatric disorders
Explore the legal status of cohabiting partners
Consider the relationship between intellectual property and contemporary art and design
Discuss the role of freedom of speech in the media
Consider the role of precedents in the draft of recent legislation
Explore the effects of anti-terrorism laws on human rights
Consider the certainty of intention in recent cases
Discuss the influence of agency workers on changes in employment law
Get in touch with our experts to get a perfect research proposal in law!

Some Top Referencing Tips from the Experts
Whatever your chosen PhD research topics in law, there a few hints and tips you would do very well to follow closely. If you want to succeed and make the most out of your doctoral experience, there are all kinds of dos as well as don'ts. Follow the expert advice below and maximize your potential when studying PhD research topics in law.
All PhD law thesis topics must be referenced properly, including a complete and well-formatted bibliography. The majority of examiners will take your work and open up the references section before they even read your introductory statements. It remains true that a student can be judged by the quality of their reading material.
Make sure that your references include those of key researchers and vital cases in the legal sphere. All PhD law thesis topics have specific well-known experts attached to them and to omit these references would be a huge error on your part. Obviously, don't just name drop these people for the sake of it: relevance is key.
Reason to do a PhD #19:

woman having baby on plane

"Is there a Dr on board"

Me: yes lol *gets out laptop and loads up MATLAB*#phdchat

— Owl Meat (@Owl_Meat) August 4, 2015
Let Experts Help to Choose the Best PhD Research Topics in Law
Writing a PhD research proposal can be a pretty difficult and time-consuming task. Once you've whittled down your long list of topics for PhD in law to just a few potential options, you need to consider which of them offers the best way for you to contribute something new to the legal field. You must be able to make a concise argument as to why your research constitutes new information and isn't simply a rehash of old knowledge. Which of the various topics for PhD in law you choose will define how easy this is to achieve.
It is generally agreed that a superior dissertation is one that is concise and specific. You must not try to overreach and investigate a topic that is too large. If you are to contribute a unique piece of research to the legal field, it needs to be at a manageable scale. That said, you ought to make sure that your introduction and conclusion are appropriately sized.

A short introduction is usually a sign of significant problems as it indicates that a student has a poor understanding and awareness of their chosen area of research. Similarly, a short conclusion implies that the writer is unable to present their findings properly and relate them to the bigger picture. Both situations may warrant corrections being advised by examiners.
The advice above has been compiled by our legal experts and should stand you in good stead to start working towards finding and studying PhD topics in law. Undertaking a doctorate is a huge commitment and you would be wise to seek expert advice at each stage of your journey to make sure that you're still on track.
Choose the single subject within the various PhD topics in law that interests you the most. Enthusiasm and diligence are the keys to your future success!