The research methodology for PhD proposal tends to vary depending on what PhD degree you are after. The trick here is determining the best approach in choosing the methodologies you will be using in developing your thesis or dissertation based on the field that you are in. For PhD students, thinking of the best methodology can be tough and writing it in their proposal may be difficult as well because they need to provide a clear and concise paper. If you need help developing this part of your PhD proposal, why not hire our writing service? We are confident that we are perfectly able to give justice to your research proposal for PhD admission.

What Should Your PhD Research Methodology Include?
Your methodology must be able to fully explain the methods that you will use to undertake your research. Your research methodology for PhD proposal writing should be detailed enough for any reader to be able to repeat your research themselves. This does not mean for instance that you have to explain something in precise detail if you are using established methods that everyone already understands.
Your methodology must also be justified. You must explain why you are using the methodology that you have chosen and show why it is the most appropriate for your studies and why other methods simply will not give you the results that you need. You should also address any limitations that your choice of methods may impose on your writing and research.
Not only should you explain how you will collect the data required for your research and why. You should also clearly show how you will go about analyzing that data and the methods that you will be using.
Tips on Writing Research Methodology for PhD Proposal
Introduce the methodology you will use. In your PhD proposal, you will have to indicate what methodology you will be using to find the best solution to your problem statement. You should provide relevant information with regards to the methodology so your readers will get a preview of your methods.
Discuss how your choice of methodology is appropriate for your proposal. Here you will have to indicate how the methodology you chose is compatible with the proposed problem. Be clear in your explanation so your readers will understand you better.
Detail the methods that you will use to collect data. Indicate whether you will observe, interview, or analyze data for your proposal. Data collection methods tend to vary depending on the PhD proposal that you are developing.
Explain your analysis approach. You should indicate how you plan on analyzing the data that you have gathered through your data collection methods as well as how you are going to present the information in your P

hD project proposal

.
Address limitations. It is important that you discuss the limitations of your methodologies so your readers will know the scope of your work and won't expect what is not there.
How Should Your Methodology Be Formatted in Your Proposal
When you are learning how to write research methodology for PhD thesis proposals you will need to ensure that you get your formatting spot on for your paper. Poor formatting could see your proposal being rejected as you must be able to show that you have the skills required for writing your final paper. Your format must follow the precise expectations of the program that you are following. These often change from program to program so it very important that you have a clear understanding of the precise format that you will need to follow. Often you will be able to get a template from your supervisor to ensure that your writing will be correctly formatted.
What Research Methodology for PhD Proposal Writing Should You Use?
The methodology that you use will very much depend on the style of research that you need to undertake. They must always be appropriate for the specific research questions that you seek to answer and must be capable of delivering the answers that you are looking for. The following are the types of research that you could be using and the methodologies that are required:
Quantitative research: these are methods that use direct measurements and objective numbers rather than feelings and opinions. If your research questions are looking for very specific information such as which solution will provide the most effective results then these methods are the ones to use. Data can be collected through various methods such as directly measuring outcomes and results through to surveys. Data is usually analyzed statistically to prove its significance.
Qualitative research: these methods are used to gather people's opinions and feelings rather than direct numbers. This can be done through many different methods such as interviews, focus groups, and surveys. These methods are best for understanding beliefs, experience and values.
Mixed: often you will be able to use both methods of research. This allows you to focus in on the more important issues using qualitative methods and then use more precise quantitative methods to get a firm measure of those results.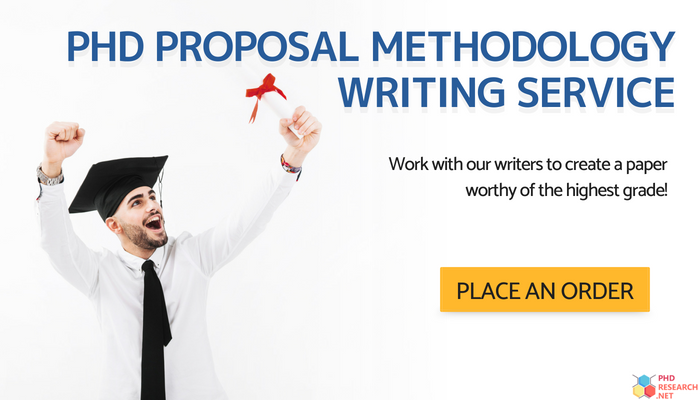 Need Help Writing Your PhD Proposal Methodology?
It's not surprising that you would look for professional writing assistance when it comes to developing your methodology that is why we are here to offer you our expert writing service at prices that are easy on your pockets. Budget is always a concern for many that is why we have reduced our rates to more affordable prices. Our goal here is to help our clients develop an effective proposal for their PhD that will get accepted by the panel. And in order for us to do this, you will need to place an order with us first along with the files that we can work with and we'll get our best writer to work on it for you. This way, you can expect nothing but the best outcome because our writers have PhD degrees which give them the advantage over other writing companies out there. Our writing service can help you create the best proposal that suits your PhD degree.
Work with the Experts
Your research methodology for PhD proposal is in the best hands when you choose to hire our writing service today. With our years of experience and knowledge in developing customized proposals, we are confident that your order will come out just the way you want it. All that you have to do is send your order to us, provide us with the information we will need, and we'll let our best writers create an impressive proposal for your PhD in no time.
Make sure you select the right research methodology for PhD proposal writing by engaging the support of our highly skilled specialists.