Interesting Human Resource Management PhD Research Proposal Topics

July 5, 2016
|
7 min read
[ad-4793759]
Developing the Perfect HRM PhD Research Proposal Topics
Choosing a good topic for your HRM PhD research proposal is not easy. To make the process of topic selection easier, you should always research ahead of time. Researching will allow you to determine which PhD research topics in human resource management are practical, relevant and interesting. You can mix your ideas for topics, for example with PhD topics in management. Narrow down on topics that are significant in your chosen field but avoid those that are too broad. Brainstorm ideas and PhD research topics in human resource management that you are passionate about; the writing process will be a lot easier when you are truly interested in your topic.
[ad-9661465]
6 Tips on How to Pick the Best Topic for Your HRM PhD Research Proposal
Your research could easily take you several years so it is very important that you select something that is not only unique and important to your field but also of real interest to you. Selecting something that you lose interest in is not going to help you to maintain the momentum required to finish your studies.
The following are some ideas and tips for selecting the right topic area for your personal research:
Continue working in an area that you have already been working: if you have become engaged with research that you have already completed then you may wish to simply delve deeper into what you have already discovered.
Use your supervisor: they will have an in-depth knowledge of your field and can help you with brainstorming around your subject area to discover topics that may be of interest to you.
Use the library: many libraries maintain lists of possible fields in which you may wish to conduct your studies. Even if they do not have exactly what you are looking for they can often trigger the thought process to suggest other areas that may be more of interest to you.
Work with your peers: often they too will be struggling to come up with ideas. Joint brainstorming sessions may help you to identify possible avenues for your research.
Do personal brainstorming.
Get reading: if there are areas in which you have an interesting start reading around those areas. You will often find many related research papers and other literature online and within the university library. Use your reading to identify the ideas and thoughts that truly engage you. If you keep careful notes at this stage you will also help with your literature review.

Find Free PhD Research Topics in Human Resource Management Online
We offer a wide selection of PhD research topics in human resource management online.
Helpful List of 10 Best Topics
An in-depth study of the correlation between job satisfaction and commitment of the worker.
What are the effects of global competition in human resources?
A comparative research on career planning: Which is best organization or individual based?
Sexual harassment: how does this affect workplace relationship and productivity?
The importance of worker empowerment as a key factor in making companies more effective.
The possible rewards and challenges in a culturally diverse workplace.
A critical analysis of the labor-employee relations.
The use of performance evaluation system to effectively measure progress within the company.
Absenteeism: does an absent worker create has an impact on the company?
The role of family business consultant and how this resolve issues that family-owned businesses face.
For more ideas see also PhD research topics in finance!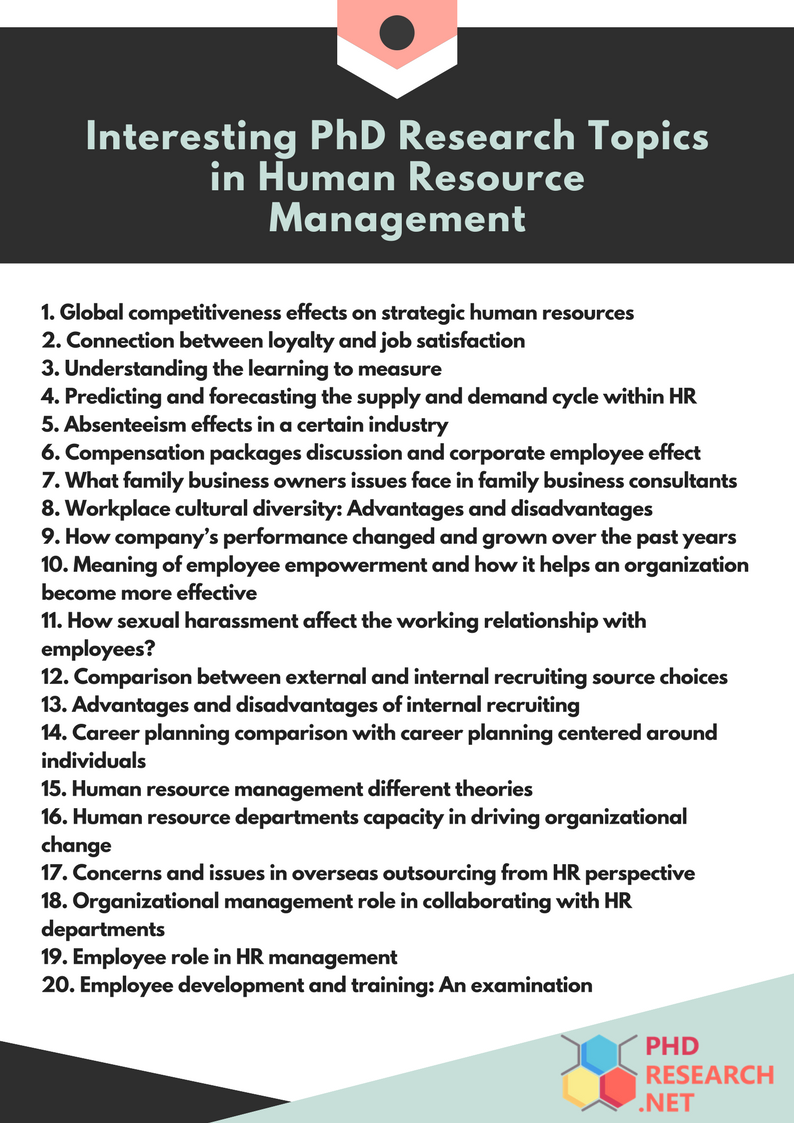 Download 50 PhD Research Topics in Human Resource Management Here!

Top 10 Tips How to Write Management PhD Research Proposal
Getting your thesis or dissertation on management completed to a standard that is going to ensure that it is accepted is not going to be easy. This is a task that is going to take you many months of hard work so the better that you plan and organize yourself the better.
The following tips will help you to ensure that your writing goes smoothly:
Plan your writing: put together a clear plan with defined milestones as to when you will finish each section of your management writing. Ensure that you also allow time for rewriting and editing for each of the parts of your paper.
Get into a clear routine for doing your writing: sit down at the same time each and every day so that you know precisely when you will be doing your work so that you will make constant progress towards your goals.
Have reasonable targets for each and every day: set yourself a target for how much you will read and how much you will write each and every day and ensure that you maintain your attainment each day.
Choose a distraction-free area and use a chair and desk on which to do your writing. Turn off cell phones and your social media so that you can concentrate fully on the work that you need to do.
Make sure that you understand the structure and format of your paper:often your supervisor will be able to provide you with a template that you will be able to use for your writing. Do however check any template before you start.
Understand the requirements for your writing before you start. If the department is asking for 100 page to 150 pages is that double-spaced? Check carefully and look at completed papers to confirm your understanding.
Create an outline of your paper before you start to write. This allows you to clearly see what belongs to each section of your paper and also identifies early any issues that you may have with the information that you have put together.
Never copy: if you paste information into your paper intending to rewrite it later make sure that you highlight it or do so in another color so that you do not forget. All paraphrased writing and quotations need to be cited correctly at all times to avoid any issues with plagiarism.
Revise your writing: it is rare that you will be able to write your entire paper without having to go back and rewrite something. Often what you write and discover later in your work will necessitate some changes to your earlier writing.
Proofread: everyone makes mistakes when they write, you must, however, ensure that you discover and remove those mistakes prior to submission or your paper could easily be rejected back to you. Do not simply rely on your computer to find all issues as it will not. Review your work carefully and if possible have someone else review it for you.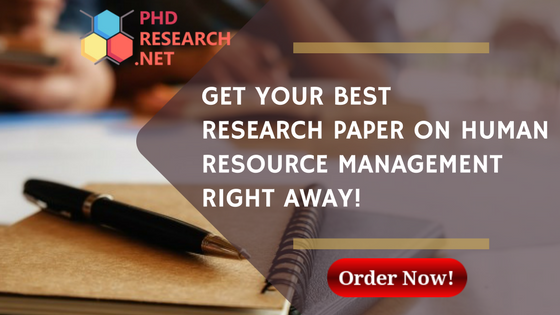 Get Academic Help from HRM PhD Thesis Writing Service
Before you decide on your topic, make sure that you can visualize what your PhD paper would look like. For those who are still having problems with choosing their own topics, it is helpful to simply avail help from expert writers online. One of the many advantages of academic writing assistance is the assurance that your PhD research topics in HRM will be personalized based on your specifications. You can get round the clock assistance that will provide you with help from choosing PhD research topics in human resource management to proofreading your paper.
Avoid duplication now and get original PhD research topics in human resource management from our professionals!