PhD Proposal in Cancer Research
If you have opted to conduct cancer research for your PhD then a research proposal for PhD in cancer research will have to be submitted and approved before you can continue. It will be easier, if read tips on PhD thesis research.

Aside from being necessary to gain the required approval, a research proposal also lays the groundwork for the research you are undertaking and is the first step towards your PhD. Cancer research isn't something you can just jump into without plenty of planning, and the proposal essentially outlines everything you will be doing during the entire research project. A good PhD research proposal should meet the following general requirements:
Establish a context for your research and demonstrate the need for it
Show that your study will meet this need, and how it will do so.
What Needs to Be Included within Your PhD Proposal in Cancer Research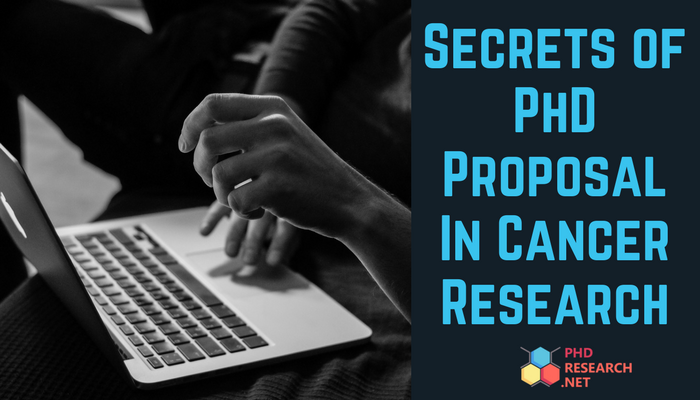 Writing a research proposal for PhD in Cancer should be done with great care if you are going to get your work accepted and be able to continue on to gain your doctoral degree. Your PhD cancer research depends on you providing a proposal that can convince the reader of the importance of your work to the field and show clearly that you will be able to conduct the work to the required standard. To achieve this you should ensure that you cover all of the following within your PhD proposal in cancer research:
Clearly show what the problem is that you are seeking to solve and why it is important within your field within your introduction.
Provide the reader with a clear hypothesis or research question so there is no doubt as to exactly what your research will seek to show.
Provide a comprehensive review of the available literature to clearly show that you have a firm grasp of the research that has already been completed within your area.
Clearly state your methodology and give reasons for its selection. The reader needs to clearly see that you have selected the methods that are most likely to provide you with success when pursuing your PhD in cancer research.
Provide a timeline and a list of required resources to demonstrate that you will be able to complete the research with what you have available to you.

Ultimately you are presenting a case that there is a particular issue that needs to be addressed, and that your approach is the best way to address that issue. If you aren't sure of the best way to write your research proposal, our PhD research service can help.
About Our PhD Research Service

Our PhD research service specializes in research proposals and dissertations, and we can assist with any aspect of the process. The professional writers we use come from a wide variety of backgrounds and have PhD degrees in their field of study. All of our writers have extensive experience in writing research proposals at the PhD level, and the writer assigned to your project will have already received a PhD in the subject area. Other benefits of our service include:
Guarantees that the work we provide will be completely original and satisfy all of your requirements.
Inexpensive rates that will suit your budget
Easy online order and payment process
Customer support 24/7
For high quality dissertations and research proposals at the PhD level, contact us for the best in PhD research writing assistance!